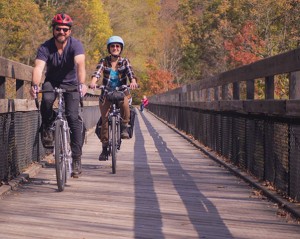 Work at Golden Triangle Bike!
Golden Triangle Bike provides everything you need to Explore Pittsburgh and The Great Allegheny Passage by Bike.  Customers can experience 1 hour or 10 days of riding through the wide array of services provided by our company.   We have 11 years of experience in providing tours, bikes, gear, trip planning, itineraries, and everything needed for an Adventure by Bike.
We are always looking for qualified individuals who possess the following skills: 
Excellent Customer Service abilities
Basic and Advanced Bicycle Mechanical skills
Knowledge of Pittsburgh, the Three Rivers Heritage Trails and the Great Allegheny Passage
Excellent organizational skills
Vacation planning experience
Outdoor/Outfitting/Recreational work experience
Retail Experience
Work Ethic
Self-motivation/management capabilities
Ability to work without micro-management
Trip/Group/Program Planning Experience
Marketing and/or Sales Experience
Employment opportunities range from Part-Time to Full-Time. as well as, Seasonal to Year-round positions.  Pay and salaries range from $9/hour to $45,000/year.  We are looking for people to fill the following roles: rental attendants, mechanics, managers, trip planners, sales, marketing, tour guides, and more. 
Contact us at 412-439-5627 or info@bikepittsburgh.com if interested!