Even though you're on a self supported adventure, we are always available to help answer your questions. Check out the info on this page, give us a buzz, or text at 412.439.5627 . While we might be miles away, we'll help put you in touch with the closest place for bike repairs, a comfy bed, or a cold beer!
TRAIL ALERT!!!  The PAW PAW TUNNEL IS CLOSED FOR A ROCK SCALING PROJECT THAT WILL LAST MOST OF THE 2017 SEASON.  An official detour/by-pass that requires you to dismount the bike can take 45 minutes to 2 hours to navigate.  If you would like to avoid the by-pass you can schedule a shuttle transport with our good friends from the Wrenwood Inn by calling 304-947-5983 or 301-892-2362.  Contact them as far in advance as possible to schedule.  Please plan accordingly.  
 Check out this link to the National Park Services website for more info
Tips and Reminders
Keep your tires inflated to 80 PSI. B+Bs, hotels, bike shops, and visitor centers usually have pumps available. Do what you can to get 80 PSI in there everyday, and you will likely not get a flat on the entire trip!
If you have an emergency on the trail, call 911 and use the mile markers as a reference.
Golden Triangle Bike strongly recommends wearing your helmet each mile of your ride.
Flat repair kits are in your handlebar bags. If you don't exactly know how to use it, flag another cyclists down! We're a friendly bunch!
Use the quick release at the seat collar to adjust saddle height and improve fit.
We've equipped your bike with a handlebar mounted bell. Use it as often as necessary to alert other riders, and shoo critters off the trail.
Keep right and announce passing as "on your left!"
Your lock combo is set to 0000. Line the numbers up at the arrow and try to keep your bike in sight.
Have fun and 'keep the rubber side down!
Don't forget to check out the super helpful FAQ section of our website.
Dropping your bike off in Washington DC.
You made it!
You will be dropping your bike off with our friends at Bike and Roll DC. At mile marker 0 on the C&O in Georgetown, you're a few short miles through the National Mall from the drop off at Bike and Roll.
When you arrive at Bike and Roll, check in with a staff member. Let them know you're just finishing up and you'll be dropping off the bike with them. They'll direct you to a space to unpack and get sorted.
Directions, GPS and Map Info:
Check out this Ride with GPS cue sheet and map to guide you to Bike and Roll
If using your own GPS device or direction application use

Address: Bike and Roll DC: 955 L'Enfant Plaza SW, Washington DC. 20024
Coordinates: 38.8844445°, 077.0275886°

Web and phone: www.bikeandrolldc.com 202-842-2453
Turn by Turn

Head east on Virginia Ave NW toward Rock Creek Park Trails 2. Turn right onto Rock Creek Park Trails! 0.7 mi!
Turn right! 0.2 mi!
Turn right! 453 ft!
Turn left at Arlington Memorial Bridge! 0.2 mi! 6. Turn right! 0.5 mi!
Turn right toward Jefferson Dr SW! 0.3 mi!
Slight left toward Jefferson Dr SW!381 ft!
Walk your bicycle 26 ft!
Turn right onto Jefferson Dr SW! 0.3 mi!
Turn right toward Independence Ave SW!397 ft!
Turn left onto Independence Ave SW! 0.1 mi!
Turn right onto L'Enfant Plaza! 0.3 mi!
Turn left onto L'Enfant Plaza SW Destination will be on the right 285 ft!
Map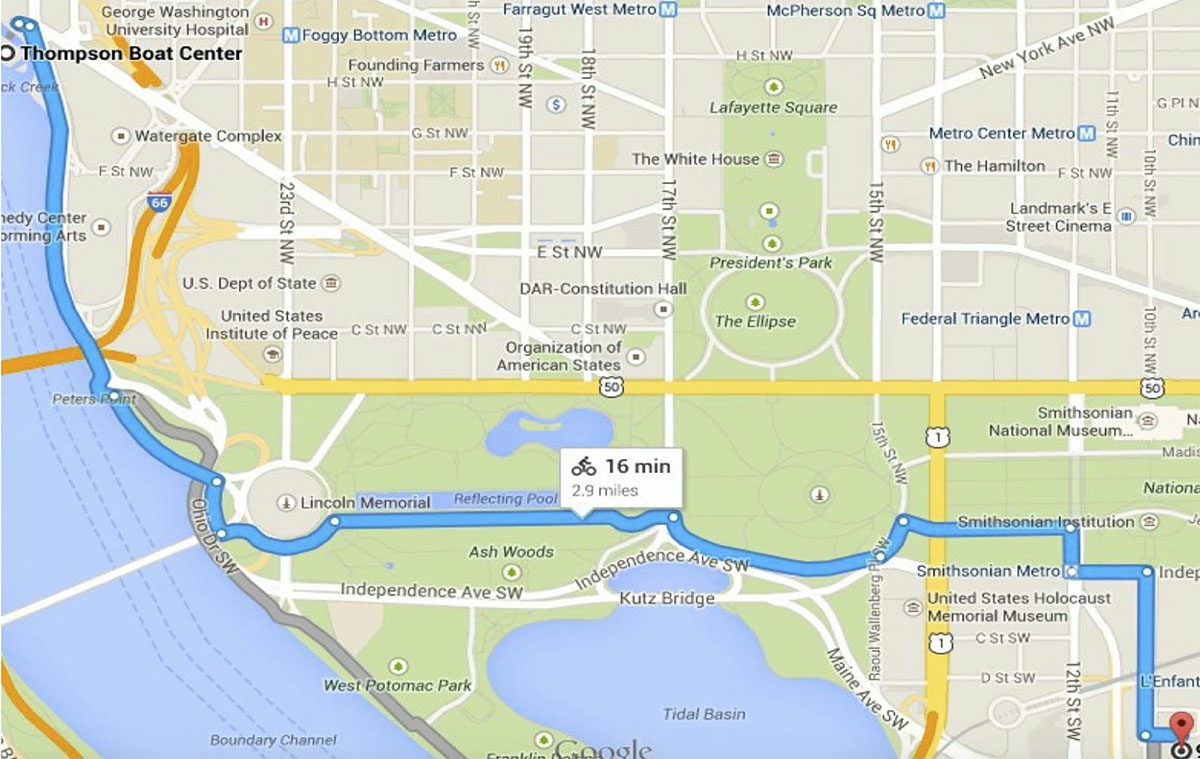 Dropping your Bike Off in Cumberland, MD
Dropping off in Cumberland is a breeze. Cumberland Trail Connection is directly on the trail, so you can't miss it.
Cumberland Trail Connection is located in Canal Place right where the GAP meets the C&O. They are next to the Crabby Pig if you need to grab a beer after dropping off your bike. Their phone number is 301-777-8724.
Social Media Connections
Connect with others who have had the good fortune of taking a ride on the Great Allegheny Passage with Golden Triangle Bike. Share your photos and good times with us and be eligible to win one of our awesome bikes at the end of the season! Check us out on: