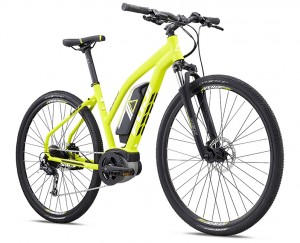 It's Electric!
Is an E-Bike for you on your next GAP trip?
No doubt, you've heard E-Bikes are taking the bike industry by storm in the last few years.  Maybe you've wondered what the buzz was all about or if you'd like to plug in to this new technology on your next trip on The GAP.  Wonder no more because Golden Triangle Bike has done our homework to find the best E-Bikes to ensure a reliable and enjoyable bike tour on The GAP and C&O!
How Do They Work?
Golden Triangle Bike stocks Fuji, Kona, and (new for 2020) Trek E-Bikes all using Bosch mid-drive motors.  Unlike hub-drive motors, mid-drive motors only assist when you are pedaling.  Think of it like a guitar amplifier- it gives more power to what you're already playing!  The level of assistance is set by the rider via a handlebar controller from zero assistance to Turbo (a lot of assistance!) A benefit to using a mid-drive motor is that  it ensures a natural feel to your ride and offers intuitive control of your acceleration (want to slow down– stop pedalling!) Another benefit is it allows for easy removal of wheels in the unlikely event of a flat tire.  The low placement of the motor on the bike also ensures balanced handling. Even with the assistance off, our E-Bikes still feel like regular bikes!  
How Fast Can They Go? 
All of Golden Triangle Bike's E-Bikes are "Class 1 E-Bikes."  This means the motor will only assist you up to twenty miles-per-hour and only while pedaling.  How quickly you reach this speed is a function of what gear you are in (our E-Bikes have 9-Speed Shimano drivetrains,) how fast you are pedaling, what assistance mode you're on, and if you're going uphill or downhill. Even though our E-Bikes can assist you up to twenty miles-per-hour, a speed that cyclists can reach even without assistance, you are still required not to exceed the posted speed limit of fifteen miles per hour on The GAP and C&O.  Our E-Bikes, like all our trail hybrids, come equipped with hydraulic disc brakes to ensure reliable braking when it's time to slow down!
How Are They Charged and What is Their Range?
The heart of our E-Bikes is a removable Bosch Lithium-Ion battery. These batteries are locked to your bike with a key to prevent theft or accidental dislodging.  A supplied AC charger can charge your battery on or off your bike via a wall-outlet. We recommend 4.5 hours charge time for a full-charge, so plug 'em in when you're in for the night!  The range of your battery is wholly dependent on how you use it.  If you pedal easily (low gears, even cadence) on a lower assist mode (Eco,Tour) you can expect as much as 75 to 100 miles of battery life!  If pedaling harder on a higher assist mode (Sport, Turbo) you can expect to drain the battery much faster. In short, the efforts that will tire you out will also tire your battery out- so take 'er easy!  Bosch even has a range calculator so you can see for yourself!  Note: rider weight and weight of luggage can also affect battery life. Your E-Bike controller will tell you how much battery life you have left, so that you can modulate your assistance to get the best mileage.  Also, in the unlikely event that you do run out of battery life, your bike will pedal, shift, and brake just like any other bike!  
How Much Do They Weigh?
Although the frame, wheels, and parts of our E-Bikes are similar to our other trail hybrid bikes, the motor and batteries do add additional weight.  Our E-Bikes (without any luggage attached) weigh about forty-five pounds, fifty with the battery attached. Most users will tell you the motor assist more than pulls its own weight, but be mindful of the added weight if you plan to pick up or carry the bike up stairs.  Lastly, if using a shuttle service let them know you have a heavier E-Bike so they can plan accordingly.
Are E-Bikes for You?
At the core, our E-Bikes operate just like our other trail hybrid bikes, but with a little extra "umph!"  If you feel like you could use a little help riding longer days in the saddle or could use an edge keeping up with fitter, faster friends, then an E-Bike could be just what you need.  Many of our riders go in mixed-groups with some riders using E-Bikes and some without, this helps keep groups together despite varying fitness levels. If you're an already fit rider looking to turbo down the trail, maybe try a light and fast Kona Rove Gravel Grinder instead!  
Interested in booking an E-Bike for your tour?  Contact Us!